This lesson was a bit different than our usual lessons because we ended up doing a semi-private instead of a private lesson! The girl in the lesson before me jumps a bit bigger than I do on her horse, but when her horse lost a shoe while she was warming up yesterday, she ended up taking a catch ride on another friend's horse (barefoot horses for the win).
Since I was already pretty much tacked up, a bit behind schedule, and it was 90-something degrees out with humidity, I asked her if she wanted to share the lesson. Luckily, she said yes!
I gave May a super light warm up, since the heat really isn't her friend. Then, the lesson started really simply. We just looped a figure 8 back and forth over two verticals. The idea was so keep the balance through the turn and get straight before the jumps. It was a good exercise to get me focused on managing that right shoulder.
When we reversed the exercise, Mandy put the jumps up a bit. May and I are pretty comfortable with the whole 2'3″ to 2'6″ thing. However, this lesson ended up pushing a little over the upper end of that. Honestly, I think if it was a private, I would have chickened out.
Once we figured out our rhythm, balance, and straightness over the figure 8, we moved onto course work. We did the same course as last week, but we added the two stride combination to it.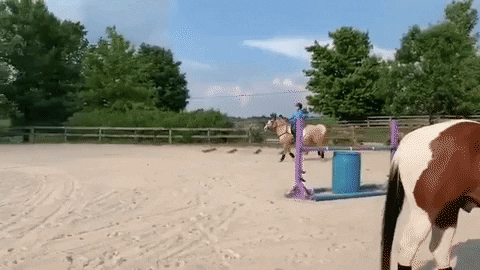 Now, the set up of that two stride was REALLY hard for me. We jumped big over the corner… then I CHASED her to try to get 6 strides… which didn't work… then I jumped up her neck… (enjoy the below pic)
Luckily, I have mostly fixed my historic reaction to this mistake. Not so long ago, I would have pulled to try to shove 3 strides into the two stride… Now, I kicked on and focused on getting her super straight. Guess what? We were able to jump out of it fine. I kept that rhythm around the rest of the course, and everything else worked out really well. The jumps I was the most concerned about (the corner and the triple bar) rode the best.
Then, we did the same course again. May, by this point, was hot and tired, so you can see her just kind of getting lazy with the verticals, but I was super happy with this course. Perfect? Nope, but I made the necessary changes and smoothed most of it out really well.
You can see the full video below: