I am sure some of you saw this pic on instagram:
and you might have had a brief thought about how it didn't look like this pic:
Then maybe you saw this pic:
and it definitely didn't look like this one…
Or maybe you just know me personally and know that I moved May to a new barn! The "reasons" are pretty mild, as far as these things go. I wanted to be with a trainer that had more of a "team" going to the local shows like the one I did last month, I was also looking for someone who was around for at least most of the winter months, and I was looking for a program where a bit more of the horse care was on the trainer instead of the owner. This is 100% a preference thing, but I think this type of program just works better for my lifestyle.
The new barn!
The barn is part of a 40 acre farm, but NT only manages the small barn in blue. May will be turned out in the field that is circled in green. The other part of the property is rented by a Dressage trainer who has her Silver medal and is an L graduate. Both sides get along well, share both arenas, and share some general barn duties (like dragging the arenas). I liked this mostly because it means that, even if NT is away, there is another professional keeping an eye on the arenas/general barns. New Trainer (NT) goes to Aiken for a couple of weeks before the start of the season in KY and travels a bit for shows, but that works for me. The barns are completely separate, so that keeps both programs from bumping up against one another.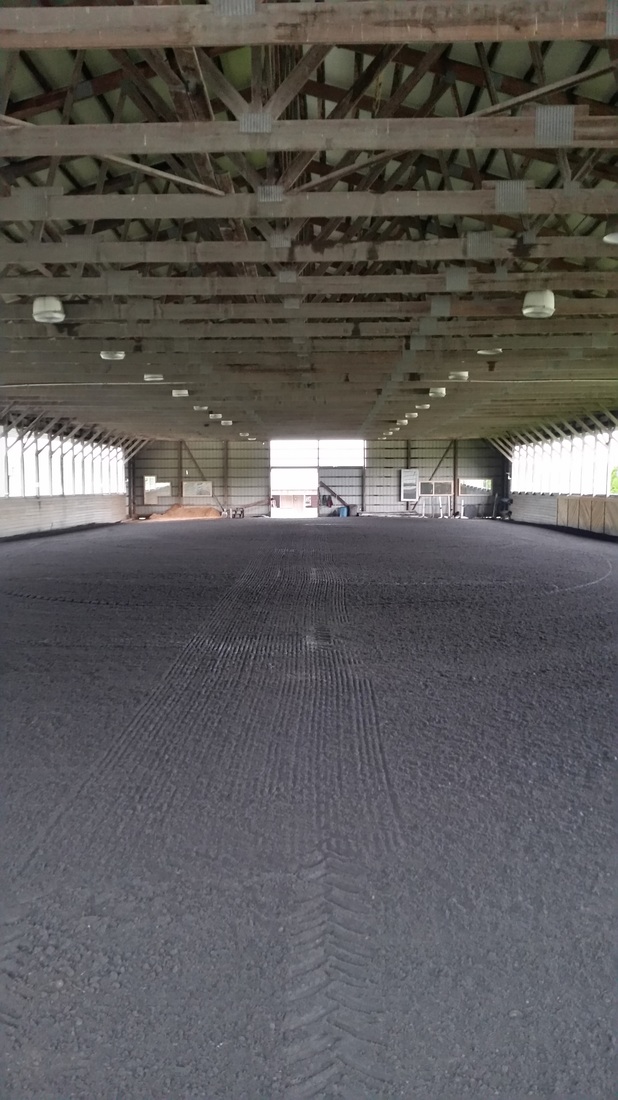 The covered building next to the small barn is the indoor. This isn't my picture, so sorry it is in a weird format. The interesting thing, for me, is that this is the first "open" indoor arena I have ever ridden in. They don't close it in the winter, so it might be a bit cold. However, I figure it shouldn't be much colder than a stand-alone, closed in indoor. In fact, it might even be warmer, as sometimes that stand alone indoor is like a fridge!
The indoor and outdoor arena are right next to each other (see the pic below). Next to the outdoor arena is a big open field, which most people use to either warm up, cool out, or do some fitness. The property next to ours is also open to us to go trail riding. I am pretty excited about getting to explore those a bit more!
The barn May is in has an interesting setup, with a main barn aisle with stalls, tack room, feed room, etc and then a line of stalls that just open to the outside of the barn and back up to the feed room, tack room, etc. May is in one of those outside stalls, and she seems to LOVE being able to stick her head out and watch what is going on out in the fields. While the barn gets a nice crosswind with all the doors open, here are also ceiling fans that keep the air moving. Since the horses are in during the day, May seems to be really appreciating this feature.
So far, everyone I have met at the new barn has been super warm and welcoming. It's definitely a very social barn, which I realized I had been missing more than I realized. I think that is pretty much it! May settled in really well. Although, she was a bit of a beast for our first ride on Tuesday. I think this was more due to the fact that I had barely ridden her the week before vs. the stress of moving. Either way, I have my first lesson tonight, so stay tuned!