So I had a local saddle fitter (yes, a new one) out on Sunday to take a look at my Genesis. Originally, she was going to look at the Diablo, but I decided that wasn't going to be the right thing, even if we could get it to fit May. So I mostly just wanted to see if there is anything we could do to help the Genesis sit more in balance for me and reduce the rocking for May. (nope… ) So the conversation  mostly turned to my "next" saddle.
The conversation went something like this:
Saddle Fitter: "Well, what have you tried so far?"
Me: "In alphabetical order?… of saddles I actually put on my horse's back and didn't just rule out immediately? Albion, Barnsby, Black Country (Solare and Wexford), Bliss, County, CWD, Duett, Ovation, Prestige, and Stubben…. at least as much as I can remember."
Check out the full recap of my last deep dive into saddle fitting here. 
Let me just say, that when you outline it like that… you get some crazy looks from your newest saddle fitter.
Saddle fitter "oooook. I am surprised you didn't like the black country saddles."
Me "Well… the one that the rep sent me was way too small. I have picture evidence!"
At least she agreed that it was definitely too narrow for May. Her recommendation was to find a black country in the width/seat size I needed, and we could reflock it to get it perfect. She isn't the first saddle rep to suggest this brand to me, so I decided to take a look.
I did ask her what model of their saddles would be best for me. Her response, "Your specs are going to be hard to find, so just start there." Yeah… no. I already have a saddle I don't love for ME, so I am not going to buy another one.
Fine, so I turn to black country's website. You know, the place that should explain the differences between their models. Right?
At first, it started out pretty good. Below is the description for the Wexford:
The Wexford is a deep-seated jumping saddle, similar to the GP range, though offering a wider seat for comfort than most traditional jump saddles.

This saddle comes with large supporting knee and thigh blocks for the ultimate in rider security and an extra forward flap option for the taller rider.

The panel and tree combinations within this saddle allow for a multitude of profiles.
Now of course, I remember I sat in the Wexford, and it put me in a bit of a chair seat, so I am crossing it off. (Thank you blogging and making tags for stuff.)
So let's look at the Quantum.
The Quantum Jumping saddle is built on a close contact tree and panel, it gives a flatter seat required for stadium or cross country jumping. Knee and thigh blocks to support your position. This is also available with an extra forward cut flap, for taller riders.
I mean… alright. A flatter seat. That is somewhat helpful. Except, it looks like this:
So by flatter… did you just mean flatter than a GP? Huh…
Then I remember that I had really liked the Solare. So is that similar to the Quantum?
We are proud to introduce you to the new Solare Jump Saddle – ideal for those riders looking for a quality saddle and the latest innovations.

Made with vintage leather, the Solare offers excellent value for money with the saddle combining cutting edge design and technology providing riders of all levels and ability with a close contact saddle and a forward-fitting seat that allows freedom of movement.

Custom-made as always, this saddle has a discreet knee roll providing support without blocking the leg position whilst the forward cut flaps help the rider's balance and security.
I…. what? The above tells me nothing about the saddle. So… then I jumped down to the solare monoflap. (Nearly impossible to find in my specs but hey, a girl can dream.)
Providing an outstanding closeness to your horse, the Vinici Solare jumping saddle is certainly one that stands out from the crowd.

This saddle is high-spec throughout and has been developed to incorporate the well-established Vinici single/mono flap design.

Feeling at one with your horse is key to success and the hugely popular Vinici design has now also been developed into a jumping saddle with a slimline, one-piece tree making it ultra-lightweight.

This superb saddle incorporates the highly regarded flexible overlay girthing system with the straps lying on top of the panel, helping to aid rider-feel.

Designed to enhance rider position when show jumping, the Vinici Solare is a fantastic example of the craftsmanship and technological advances available today.
Really? Does anyone care about all the marketing speak? I get it. They want you to talk to their reps in order to buy their saddles. (Upsell! Upsell! Upsell!) However, it is a really frustrating experience when you already know that you don't like the rep in your area, AND you have limited funds to try all their models without the support of a rep.
I figure it is worth comparing this to the Stubben saddle explanations:
The S Roxane is a deep jump seat, square cantle saddle that features matching panels and large blocks in both the front and rear. It offers great security while using softer leather on the layered fronts to provide for a very comfortable ride.

Starting at $3,695.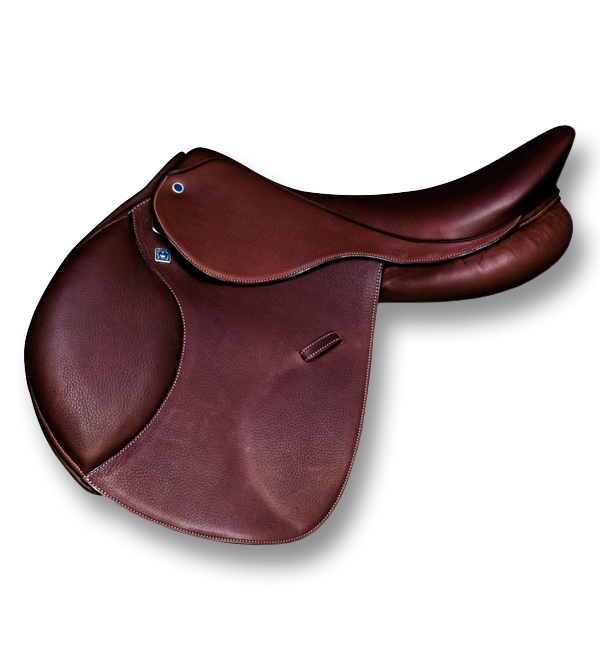 The Ascend offers a classic hunter coupled with the advanced technology of Stübben spring tree at an affordable price point. It features an extra soft seat with a narrow twist and square cantle. The nicely padded smooth fronts combined with the versatility of our velcro block system allows the rider to choose the level of support desired. The rich redwood colored leather, complimented by a soft contrast stitching, offers an immediate broken in feel.

The hunter rider will experience an effortless, close-contact feeling with the controlled performance of this exquisite creation by Stübben.

Starting price of $2,495.
Alright so… You can see through these two examples that the Roxanne is a deeper, more secure saddle. Probably better for fox hunting. Meanwhile, the Ascend has a more narrow twist and is probably better for jumping in the ring, but with more support than a more traditional jumper saddle.
So while I continue to try and sell my Dressage saddle, I will probably keep the Black Country Solare in the back of my mind. I LOVED the bliss, but the chance to save $1000+ and still end up with a great saddle… that is hard to pass up.
So what do you all think? Do you think this is a purposeful tactic on Black Country's part to encourage people to use their reps? Or do you think it is just a marketing person gone haywire? Ooooorrrr Does this type of thing not bother you at all?
Let me know your thoughts!