A quick background for this lesson, my left ankle has always been a mess. I messed it up a long time ago, and it likes to act up. If you remember a couple of lessons ago, I made my trainer get on because my ankle was in ridiculous pain. WELL on Sunday, I got up off the couch… and found myself in SERIOUS pain. Like got back on the couch, took an anti-inflammatory and was still WRITHING in pain.
By Tuesday, the ankle seemed fine, but I had it wrapped and warned my trainer that I wasn't sure how long it would last. Since my trainer is awesome, her response was "alright, then let's make the most out of whatever time we can get."
We started over a fairly simple grid. A cross rail, bounce to vertical, bounce to crossrail, three strides, crossrail, bounce to vertical, bounce to crossrail. The idea was to keep the momentum coming forward through the bounces to make the three strides work. There was a fairly tight turn to the grid, so again, keep the momentum through the turn. Got it? Good!
The first time through, May was kind of like WTF when we turned the corner.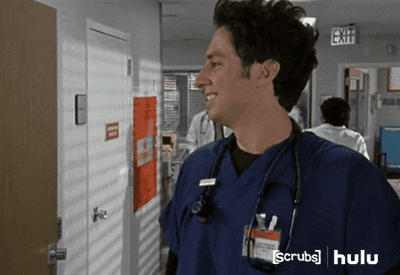 As a result, she sucked back a bit. I kept my leg on, and we made it work. Coming through the other direction, she was better, and it worked out a bit easier. NT put the crossrails up, and we worked through it a couple more times. Our distances weren't always perfect coming into it, but May was jumping great. Sooo we didn't drill it. I also admitted that the grid was putting a lot of stress on my ankle, and it was starting to ache. UGH
So we moved onto a little baby course. Diagonal, around to an oxer on the quarter line, then a roll back to another diagonal vertical. Easy peasy. And it was. Soooo the verticals got pushed up a bit higher, and we moved onto a longer course.
The course was one of those courses where you never really ride on the rail… Lots of distances just kind of floating around in space hahaha. So you have to be pretty deliberate about your line, pace, and balance to make things work.
To the first jump… I just didn't have enough pace and kind of just did nothing. Cool Em. The pace LOOKS ok and FELT ok, but looking at the video, May wasn't actually covering enough ground. Alright then, I fixed it coming around the corner to the square oxer. With the better pace, I could get the more open distance, and it was fine.
NT had warned me that the four strides on the diagonal line were a true four, and then the one stride was about 2ft short. As a result, the goal was to jump STRAIGHT and ACROSS the oxer into the line, and then keep my shoulders back through the verticals at the end.
This… could have been ridden a touch better. I didn't get May's shoulders square until the VERY LAST stride before the oxer. (not a great feeling) Then, I got kind of ACTIVE with  my whole body down the line. As a result, I almost got TOO much step through the line. However, I kept my shoulders back and let May figure out the one stride.
We rolled back to the vertical. It was a good ride, and May just tapped the top rail. I think it was the highest jump on course, so she just misjudged it a bit. Since the spot was just "there", I leaned forward a touch early, encouraging her front end to be a bit slow. Oh well.
I rode forward off of that… towards the triple bar. Have we ever jumped a triple bar? Maybe? Several years ago? Oh well. I just remind myself that horse's jump triple bars well, and I rode at it.
My jump was pretty good. It was just a TOUCH close, which is kind of what you want with a triple bar. I actually BENT the line (versus SLICING it… like I love to do) and the seven strides worked out great.
Overall? Really happy with it. It was a course with a lot of different questions being asked, and we stepped up and answered each one as a team. I only got one real "head toss", because a sassy queen realized she almost made it all the way through the horse without one.
My ankle was KILLING me by this point, so we called it a day. So? Where's the fall?
WELLLLLLLLLL, while I was untacking May, it was only me and NT in the barn. I didn't bother cross-tying May, and she was just chilling while I untacked. Well, I put the saddle on a saddle rack, and turned back towards May… then tripped over the end of a rubber mat.
I went FLYING at my horse, and I managed to HEADBUTT her on the side of the ass. Literally, there is a bruise on my head from this today. Poor May was BEWILDERED by the whole thing and spun around to snort at me. I ended up going ALL THE WAY DOWN, bruising the knuckles on my right hand, and scraping my knee bad enough for it to bleed through my breeches.
Honestly, I am just super thankful for two things:
May didn't kick me. Seriously – she would have had every right, but she didn't. She didn't even leave the barn. Just was… very confused. Someone got all the cookies last night.
My breeches didn't rip. I was wearing my forest green Sarafina breeches, and they… look as if nothing happened. Hopefully, the blood comes out, but at least they're a dark color. I can't believe my knee looks like something chewed on it, but my breeches are barely even scuffed.
I guess I live to fight another day. Maybe next time, I should keep my helmet on a little longer. 😉