I have been a pretty devoted Cashel Crusader fly mask user for a while. They seemed to fit most horses, lasted a while, and looked fine. However, I have had issues with the long piece that covers the nose. In certain muzzles, May benefits from this extra piece, while in others, it just gets in the way. Also, the sizing has also been slightly off for May. A "horse" sized mask wasn't quite large enough in the right places, and a "warmblood" sized mask was massive. See below for happy horse in the Crusader mask. (Old video that makes me wonder WHY I LET HER GET SO FAT? Definitely at a better weight now)
[wpvideo 5d3gVsDc ]
So when I was looking for a new mask, I decided to try another brand. The most economical choise? The SmarkPak Fly Mask.
The SmartPak Deluxe Fly Mask is just what your horse needs to keep summer's pests at bay at a price you'll love! The Deluxe mask features a fleece bumper in the crown to help lift the mask away from your horse's eye as well as a removable zipper nose piece depending on you and your horse's preference.
Durable PVC mesh that holds its shape and keeps flys off your horse's sensitive face

Soft mesh ears provides extra protection from pests in sensitive areas
Fleece edging ensures a comfortable fit on the horse's face
Wide VELCRO® brand closure keeps the mask securely in place
Sounds pretty good. Right? Nice fleece bumpers for comfort, a removable nose piece, and a wide closure. It all sounded great.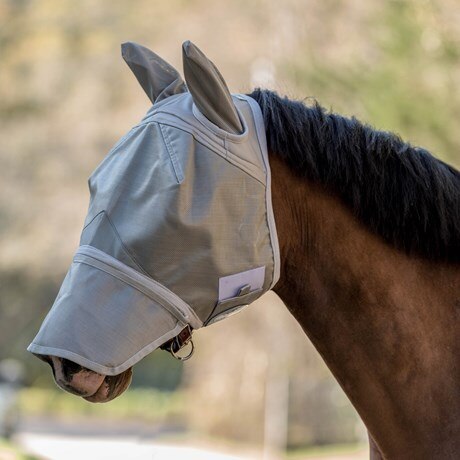 It showed up, and the material was soft but sturdy and the fleece was a nice touch. It fit May's ears, but it didn't quite stretch all the way around her jaw. Not a big deal. It still closed with plenty of velcro making contact. Even in the picture on the website, the velcro was left a bit short. Worst case scenario, it would just fall off. Right?
Here's the issue, there is no elastic in the closure. It is just a WIDE piece of velcro. At this point, I think it might even be that wide just so smartpak could slap a GIANT logo on it.
Now we get into the issue. I threw this fly mask on and then wasn't at the barn for a couple of days. When I showed up a couple of days after introducing it, my trainer told me that something was rubbing May's face. Given that she was wearing a muzzle and a mask, I didn't jump to any conclusions.
Then I saw this. Ouch! You can see the rubs under the jaw in 2 places on both sides. Those places lined up with the front edge of the velcro and where the velcro sat on the widest part of her head. Mind you, the part facing the horse was not the rough "velcro" part of the velcro strip, but it was the hard, less flexible material. In 2 days of only night use, it had rubbed May's jaw raw.
I removed the fly mask (obviously) and switched May to a fully fleece-lined muzzle, since it wouldn't be raining for a few days. Then, I emailed SmartPak. Here's the response:
Thank you for your email!

I am so sorry to hear that the fly mask wasn't perfect for May!

Since that has been used, please feel free to give it to a friend, or donate it to a local rescue. I am absolutely going to issue a 

Smartpak

credit to your account for the purchase price of that. That credit of $27.19 will automatically apply to either your next purchase from us, or your next 

SmartPak

 for May, whichever comes first.

Please do not hesitate to let me know if there is anything else that I may help with, and have a wonderful rest of your day!

Happy Trails,
First of all, do you really need to call it a "Smartpakcredit"? Either way, the resolution was fine. Not great (especially since I was within the 60 day return window), but fine. I feel like the old SmartPak would've tried to figure out what the issue with fit actually was and try to recommend another one to try? Maybe I am using rose colored glasses there.
Either way, I left a review about the velcro issue, and I will check to make sure it shows up. Smartpak branded items seems to have a LOT of REALLY positive reviews. Anyone else notice that?
I will probably try a different fly mask from Riding Warehouse. Maybe a lycra based one so that it is less bulk under her muzzle. Thoughts?
THIS REVIEW IS NOT SPONSORED, AND THE ITEMS DISCUSSED IN THIS REVIEW WERE PURCHASED BY ME WITH MY OWN MONEY.