Fun Fact: up until last weekend, May and I hadn't jumped since November. This was due to a combination of rainy weather, my schedule, and my lack of health insurance until the start of 2017. I've always been conservative with my jumping. If I jump once a week, it is usually over small fences (like 2′ to 2'3″) where we work on things like rhythm and balance. As a result, it is not totally unusual for May to go a few weeks without jumping.
However, considering that we did not get into a jumping groove at all since last summer (ouch), I thought it would be good to reintroduce jumping like I would do for a greener/more nervous horse, just to make sure I don't go along and create some issue. Ideally, the rider reintroducing jumping would be in a jumping groove themselves, but things are rarely ideal with horses.
The first step in this process begins before I even approach a jump. It typically starts the day before (assuming all the basics have been installed prior to this point). In May's case, that means lots of transitions and a nice long ride with a long walk the day before jumping. It takes the edge off so that I don't end up fighting with her on the most basic principles of coming back from the canter and listening to the half-halt.
So finally Sunday arrived, and I dropped two relatively plain jumps down to a crossrail and a 2′ vertical with some flowers under it. Warm up emphasized the same ideas as the day before with lots of transitions coming from my seat and leg. I hadn't actually planned on jumping this day, so I had on just a plain, loose-ring, mullen mouth bit, and I wasn't wearing spurs. For May, less is probably better at this phase. Making her feel claustrophobic or uncomfortable with a stronger bit (especially with me out of practice) would likely lead to more harm than just letting her get a bit strong. For reference, we usually jump in a D-ring Dr. Bristol.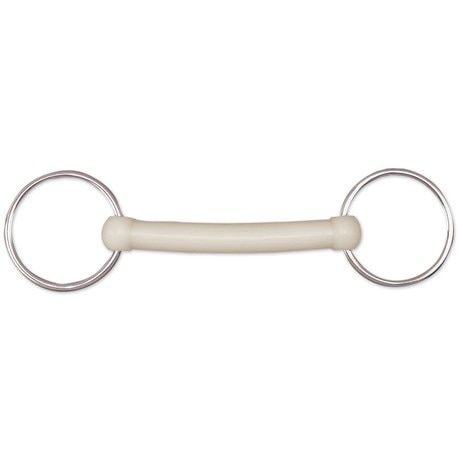 Then we just… popped around the two fences I had set up. We cantered some and trotted some, but it was all very calm and nonchalant. Jumping lasted maybe 10 minutes, and we finished with some flat work and then a nice long walk. May felt the same as she always does on under 2'6″ jumps, like a total packer.
Then this past Sunday, I decided we should actually add back in some of the important pieces of jumping. Relaxation is obviously the first, which was done last week, but now I wanted her to start think about adjusting and jumping from the base of the fences.
I set up what is probably my favorite gymnastic. It is so simple that it probably doesn't even qualify as a true gymnastic. It is just a pole placed about 7′ in front of a vertical. The exercise is to trot in, keeping a forward but stead rhythm. The horse should step over the pole, rock back onto its haunches, and jump over the vertical. It's one of those gymnastics that immediately forces you to concentrate on a few very important points:
Coming Forward in a Rhythm (aka keep your leg on and don't pick)
Letting your hip angle close over the jump instead of throwing your body
Feeling your horse rock back at the base of the jump
It also points out if your stirrups are too long for jumping as this will suddenly get really hard with long stirrups.
It is important to note that, just because this is a slower and shorter exercise, it is not easy for the horse. It really requires them to push from behind, which if you are using this exercise to fix that problem, means they are probably using those muscles a lot harder than they usually do. As a result, I don't drill this gymnastic. I will do it once then canter around to another jump (in this case I cantered around to a 2'3″ stone wall we hadn't jumped before… spoiler alert, May didn't care.)
All in all, this ended up being a longer jump school at about 15 minutes where i put together a small, rather twisty course with jumps all in the 2′ – 2'3″ range. All the jumps had flowers or gates or boxes or some combination of the three and May never bat an eyelash. Good pony.
I, surprisingly, am really excited to start jumping regularly again. She feels as good as she always has and my increased focus on my own fitness has made a real impact on my confidence. I can't wait to see what 2017 brings us!